San Juan, PR March 10, 2014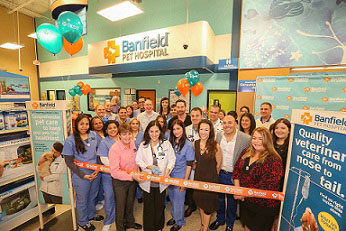 Banfield opened its second hospital Puerto Rico at El Señorial Plaza in South San Juan on March 1, 2014. The grand opening was featured on Puerto Rican TV stations WAPA and Telemundo with an interview with spokesdoctor Rhemuel Valcarcel. The opening celebration included a contest titled "My Pet is a Star" with celebrity guest Jamie Mayol onsite to judge the furry contestants on their singing and dancing skills. The grand winner received a one-year Optimum Wellness Plan®. To further commemorate the grand opening, we donated a day of free veterinary services to El Faro de Los Animales and 20 percent of grand opening revenue to Humane Society of Puerto Rico.
Find a Banfield near you
Search by zip code, or by both city & state.
This field is required.
Optimum Wellness Plans®
Affordable packages of smart, high-quality preventive petcare to help keep your pet happy and healthy.
See OWP packages