Vancouver, WA September 18, 2016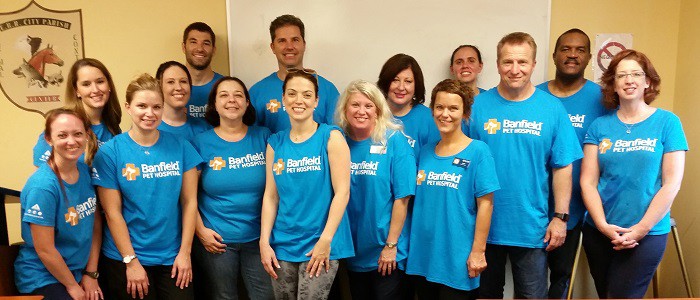 Last month, Banfield President and CEO, Vincent Bradley, traveled to Louisiana to support pet-related disaster relief efforts. He reflected on his time there in a post first published on LinkedIn, and now shared below.
Four Things I Learned Working with Pets and People in the Aftermath of the 2016 Louisiana Floods
At Banfield Pet Hospital®, we have a history of working with partners to rescue and care for pets and other animals after a natural disaster strikes. Last month, I had the opportunity to travel to Louisiana and, for the first time as Banfield's CEO, volunteer alongside our associates to support disaster relief efforts.
In mid-August, an unprecedented storm dropped almost 7 trillion gallons of water on southern Louisiana in less than a week, causing extreme flooding and the worst U.S. natural disaster since 2012's Superstorm Sandy.
Louisiana is home to 12 Banfield hospitals, one of which was forced to close due to the flooding. Our presence in Louisiana meant we felt the direct impacts of the disaster, but also that we were well positioned to support those who were in need – including a number of our own associates who were personally impacted by the floods.
We quickly worked with partners to deploy resources – volunteers, supplies, an American Humane Association rescue vehicle and more – and our response is ongoing. Working directly with Banfield associates, first responders, pets and the people who love them in Louisiana made me proud to be a Banfield associate and gave me a deeper appreciation for my job. My visit also taught me four things I'd like to share with you.
First, even in the face of overwhelming challenges, people (and pets) are incredibly resilient.
I was inspired by how many volunteers stepped up to provide assistance, despite what they, or their friends and family members, might have lost. In the aftermath of the floods, our Louisiana-licensed doctors and vet techs provided exams and care to evacuated and displaced pets. During my time there, we cleaned cages, replenished food and water and shared stories at a local shelter. I was truly inspired by the tireless energy and selfless acts of kindness all around me.
When I spoke with Banfield associates impacted by the flooding, they didn't talk about the material possessions they had lost. They told me about saving their pets and the pets of their neighbors. They expressed concern for each other. They spoke with pride and love about their communities and the collective effort to continue forging ahead and provide aid to those in need.
Second, we are strongest when we come together as a community.
At Banfield, we've always believed that we are stronger together and that, working together with key partners, we can change the lives of the pets, people and communities we serve. I saw that philosophy in action during the time I spent in Louisiana as Banfield worked closely with the American Humane Association and our own veterinarians and vet techs on animal rescue efforts.
The Banfield Foundation sponsored the American Humane Association's northeast rescue vehicle, which traveled from New Jersey to Livingston Parish, where 75 percent of homes were destroyed, for a 10-day deployment during the last full week of August. In total, Banfield associates gave nearly 600 hours of volunteer service and impacted more than 3,000 pets. As divisions of Mars, Inc., we partnered with Mars Petcare who donated more than 20 tons of pet food to help with relief efforts. We have also helped to treat, feed and care for the more than 1,200 pets housed at Lamar Dixon Expo Center, one of the largest temporary shelters for victims of the flood. The Banfield Foundation has granted $10,000 to Arcadia Animal Aid to support preventive care for and transport of animals to other shelters across the country, in order to make room for additional pets displaced by flooding, and other grants to shore up disaster relief for people and pets alike are planned. To help make these grants possible, we are directing all donations made to the Banfield Foundation via PIN pads in Louisiana hospitals to Louisiana disaster relief efforts for the remainder of 2016.
Community is critical, and I am immensely proud of our associates for stepping up and supporting communities in southern Louisiana – and each other. In fact, thanks to generous donations to a brand new, soon-to-be-announced fund dedicated to helping qualifying associates affected by disaster, we were able to provide financial support to many of the associates who experienced devastating losses during the flooding. Now more than ever, I am convinced that we are truly better together
Third, people and their pets have a bond that stands the test of disaster.
At Banfield we talk a lot about the pet-human bond and we witness its power every day in our hospitals. While there's plenty of scientific research to back up the benefits of close relationships with pets, what I saw firsthand in Louisiana was even more impactful.
Banfield associates have helped thousands of pets and other animals affected by the disaster. I heard stories of families and their beloved pets overcome with emotion when they were brought back together – relief, disbelief, hope, joy – but there are still many more who need assistance and who are waiting to be reunited. We are committed to providing resources in these communities until the job is done.
The road to recovery may be long for Louisiana, but we will walk it hand in hand with our associates, partners and the local pets and people who most need our help and support. We are already planning to bring another group of volunteers to Louisiana next month to continue support for ongoing relief efforts. And now, because September happens to be Disaster Preparedness Month, I encourage everyone to create or update your disaster preparedness plans and kits with your pets in mind. Watch the video below for some quick tips,
I was so humbled to be surrounded by so many wonderful people dedicating so much more than the brief time I was able to spend in Louisiana. The strength of the response was incredible – but it's only a small part of the aid that Louisiana needs. Disaster has lasting impacts and as I said before, recovery takes time and moment to moment, it can feel overwhelming – but fortunately, the last thing I learned is that there is always hope.
While we mourn and recover from the massive losses of property and the tragic deaths of human life in the area, what I saw in Louisiana time and again were unexpected moments of joy. When a family embraces a dog for the first time since being separated, we feel hope. When a litter of kittens with a full bellies falls asleep in a pile in a noisy arena, we feel hope. When another truckload of animals comes in, each one representing the chance to make a family whole again, we feel hope. And as our Louisiana-based Banfield family and partners continues to dedicate time and resources to local relief efforts, we will do everything in our power to share that hope with the people and pets impacted by the flooding.
Find a Banfield near you
Search by zip code, or by both city & state.
This field is required.
Optimum Wellness Plans®
Affordable packages of smart, high-quality preventive petcare to help keep your pet happy and healthy.
See OWP packages