Vancouver, WA July 04, 2016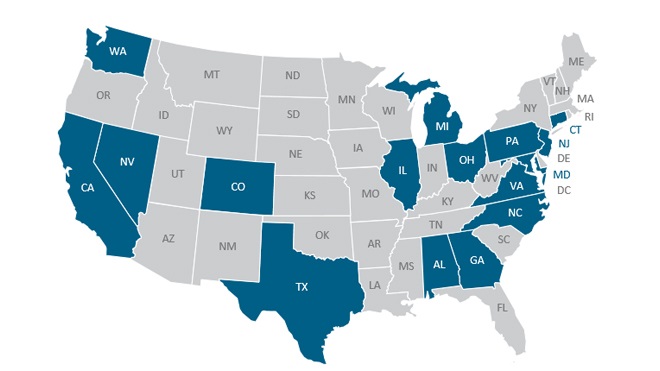 At Banfield, we believe in investing in our doctors and supporting veterinary organizations that give back to the larger profession. In 2014, we launched a program to provide our doctors with practice-paid membership to state veterinary medical associations (VMA) in select states.
We're thrilled to announce that as of July 1 we are expanding our state VMA program to reach six new states — California, Connecticut, Illinois, Maryland, Michigan and Virginia. These states will join our existing partnerships in Alabama, Colorado, Georgia, Nevada, New Jersey, North Carolina, Ohio, Pennsylvania, Texas and Washington. Our VMA memberships connect our doctors with local and high-quality continuing education (CE), networking opportunities, avenues to hone leadership skills and much more.
For doctors like Dana Novara, this program is more than just a membership; it provides an opportunity to positively impact local veterinarians and address state-specific concerns. "My hope is that our partnership with the state VMA will make it easier for our doctors to be part of the larger veterinary community in Nevada—whether that's through networking, mentoring, engaging in public policy issues or attending local continuing education," explains Dr. Novara, a medical director in Nevada.
We've been thrilled to see doctors like Dr. Novara connect with the wider profession in authentic and meaningful ways through these state partnerships. Dr. Novara was recently appointed to the Nevada VMA board of directors where she is spearheading a committee tasked with implementing a state-wide mentorship program. "Giving back is important to me. The more we support one another, the healthier our profession — and the pets under our care — will be," said Dr. Novara.
Visit our community page to learn more about how Banfield supports the wellness of our people and our profession.
Find a Banfield near you
Search by zip code, or by both city & state.
This field is required.
Optimum Wellness Plans®
Affordable packages of smart, high-quality preventive petcare to help keep your pet happy and healthy.
See OWP packages