Vancouver, WA August 07, 2015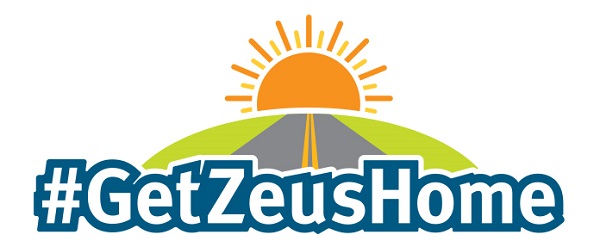 Zeus, a Rottweiler mix, was left in the care of a friend when his family moved from Georgia to South Korea for a military assignment. A few months later, his family got the call that every pet owner dreads—their beloved dog had passed away.
Once back in the States, the family relocated to Washington. Imagine their surprise when 2.5 years later they got a call letting them know that Zeus was alive and in North Carolina! A good Samaritan found Zeus and brought him to Banfield Pet Hospital, where his microchip was scanned and the family was contacted.
A happy ending was in sight, but what should have been one relatively easy flight home for Zeus turned complicated by a diagnosis: Zeus has heartworm, a possibly fatal — but often treatable — disease, which makes it unsafe to fly. Luckily, Rachel, a practice manager at a Banfield hospital, heard Zeus' story and offered to drive him the nearly 3,000 miles home.
Check this page daily for updates on Zeus' journey and family reunion. You can also track his progress on our Facebook, Twitter and Instagram pages, or view our #GetZeusHome playlist on YouTube to watch videos from the road trip and well-wishes from our associates and fellow pet lovers!
We've also created a guide on preventing lost pets to help you keep your furry friends safe and sound.
Updates from the road
August 14, 2015
ZEUS IS HOME!
Zeus had a wonderful check up at the original Banfield by Dr. Redmond before hitting the road for home!
When we pulled up to Banfield in Lacey, Zeus finally got to see his family for the first time in years. He spent some time with Banfield veterinarian Dr. Zittel, his new doctor, before - finally - heading home.
Watch the video of the reunion below!
You can read past updates below the media gallery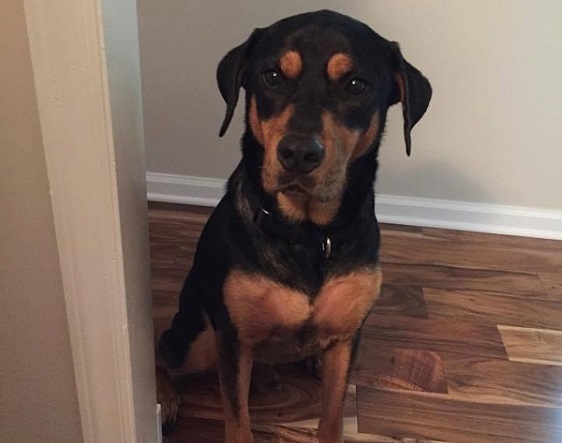 Zeus in North Carolina
Zeus at his foster home in North Carolina.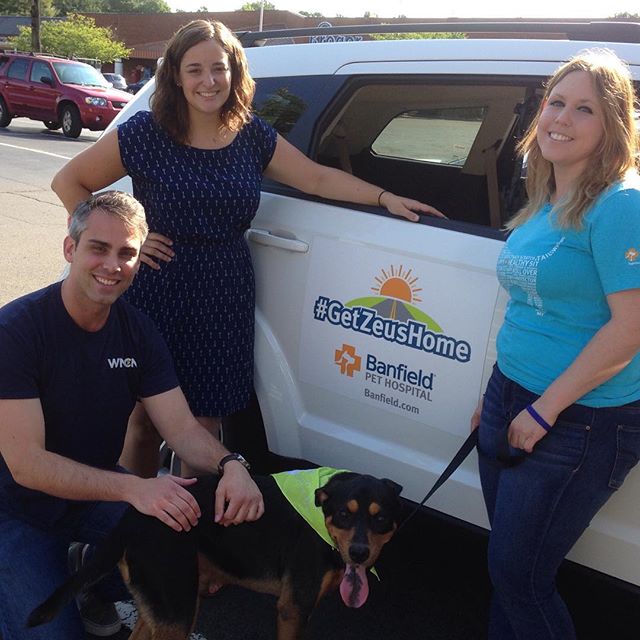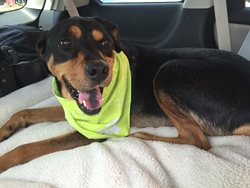 On the Road!
Zeus gets comfortable and settles in for day 1 of his cross country trip.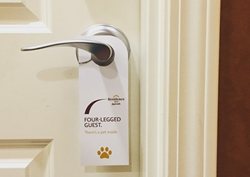 Good Night's Sleep
Zeus gets a peacful night of sleep after a big day on the road.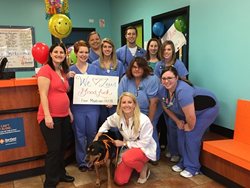 Team Madison Loves Zeus!
Zeus gets a warm welcome at the Banfield hospital in Madison, TN, and an exam from Banfield veterinarian Dr. Devoto.
August 13, 2015
Day 5 is in the books, and we're closing in on the big reunion with Zeus and his family!
We started the day with a visit to the Sandy, UT hospital so Zeus could have his daily health check. Then the #GetZeusHome team headed back out on the road (but first stopped briefly for a coffee for Rachel and Lauren, and a puppoccino for Zeus).
When passing through Meridian, Idaho, the crew made a quick pit stop to visit with the Banfield and PetSmart teams. With temperatures over 100 degrees, our friends at PetSmart were kind enough to provide Zeus with a cooling mat so he would be comfortable in the car. He thanked them with plenty of kisses and tail wags.
If all goes according to plan, our next update will be with Zeus AND his family!
August 12, 2015
Day 4 and closing in on Washington. A visit to the Littleton South location outside Denver kicked off the day's adventure west. Zeus made fast friends with the hospital team and Dr. Kelly Foster gave the #GetZeusHome team the thumbs up to carry on the journey.
But first, Banfield veterinarian Dr. David Dilmore offered some tips for Rachel to share with Zeus' family on how to care for a heartworm-positive dog as well as successfully help Zeus transition back into their home. It's been a long road for Zeus since his family last saw him nearly three years ago.
The Southeast Wyoming Welcome Center took the cake today. Zeus enjoyed a safe leash-walk in a special, designated (& fancy!) pet area. And, the #GetZeusHome car was spotted in the parking lot by a fan, who has been following the story and was ecstatic to learn he had the chance to meet THE Zeus.
August 11, 2015
Today was a big day: the #GetZeusHome car hit the halfway mark! Rachel, Lindsay and Zeus started their day with a visit to the Shawnee Mission location in Kansas. Banfield vet Dr. Andra Long gave Zeus' heart and lungs a good listen and said he was safe for travel.
The long, very straight and flat drive across Kansas was broken up by some fantastic news. Rachel learned that a client in Raleigh, inspired by seeing Zeus' story on WNCN — the local NBC affiliate in Raleigh, North Carolina — decided to get her pet microchipped. Aug. 15 is "Check the Chip Day," so hopefully even more owners will be encouraged to have their pets microchipped and to keep the registration information up-to-date.
Being greeted by the sight of the Rockies was a great way to end the day!
August 10, 2015
After a restful sleep, the #GetZeusHome car stopped at the Banfield hospital in Madison, Tennessee, to make sure Zeus was in good shape to continue the journey. Dr. Jacqueline Devoto checked his heart rate and vitals … and gave Zeus the greenlight.
Before hitting the road, Zeus received plenty of ear scratches and well wishes from Banfield and PetSmart associates.
Rachel and Lindsay mapped out quiet pit stops along the route so Zeus would be at ease, but when a "pit-stop" in Metropolis, Illinois — the hometown of Superman — presented a chance to pose with a life-size cutout of Superman you can put your face through, Zeus was happy to stop for a quick photo.
Needless to say, the day was interspersed with naps … and more naps for Zeus. Five states down, seven to go.
August 9, 2015
This morning was bittersweet as Zeus Said goodbye to his extended Raleigh team and headed west for Washington. All of his friends came out to say goodbye, including the Williams family, who has been fostering him, Sean Maroney at WNCN who first introduced us to Zeus' story, and Zeus' hospital team in Raleigh.
Rachel loaded up the car and they headed out for the long trek to Nashville. They made several stops along the way, including trips to Asheville for treats and a pit stop at the Tennessee border to play in the grass.
After a long day of excitement, anticipation, and long naps in the car, Zeus was all tuckered out and ready for bed. Tomorrow, on to Kansas City after a quick check in with the Madison hospital team.
Find a Banfield near you
Search by zip code, or by both city & state.
This field is required.
Optimum Wellness Plans®
Affordable packages of smart, high-quality preventive petcare to help keep your pet happy and healthy.
See OWP packages