Portland, OR December 14, 2016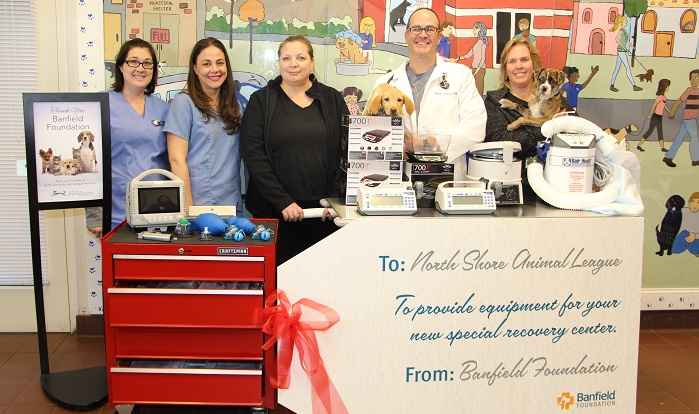 Banfield FoundationTM , a 501(c)(3) nonprofit organization, today announced a series of grants to shelters and nonprofit organizations across the country to provide veterinary care to pets in need.
The grants, totaling $215,000, are part of the Banfield Foundation's "12 Days of Giving" campaign. This was made possible through funds raised by Banfield Pet Hospital's first children's book "My Very, Very Busy Day" —the book was available in Banfield Pet Hospitals across the country and was designed to be both a fundraising and educational tool. One hundred percent of all proceeds went to provide veterinary care to pets in need. Grant recipients included nonprofit organizations that share the Banfield Foundation's focus of improving the well-being of pets and communities.
"We felt the best way to maximize the impact of the children's book proceeds was to enable other nonprofits to expand upon the great work they are already doing," said Lilisa Hall, executive director of the Banfield Foundation. "By providing medical equipment, program support and microchips, we are demonstrating our commitment to giving back to communities in need, and partnering with organizations dedicated to providing necessary care for pets and their owners."
The full list of recipients, and what these grants will fund include:
Veterinary care for pets of the homeless at the Chapman Partnership in Miami, Florida.
An X-ray machine for San Diego Humane Society.
New equipment for the medical clinic at Austin Pets Alive in Austin, Texas.
Flea and tick control for the Coalition to Unchained Dogs in Durham, North Carolina.
An X-ray machine for the medical center at the Humane Society of Southwest Washington in Vancouver, Washington.
Temporary boarding costs for the pets of domestic violence victims for the Day One program at Cornerstone Advocacy Service in Bloomington, Minnesota.
New equipment for the Special Recovery Center at North Shore Animal League America in Port Washington, New York.
Support for the Middletown Animal Hospital's care for pets impacted by wildfires through the California Veterinary Medical Foundation.
Support for the Humane Education Program for Virginia Beach Society for the Prevention of Cruelty to Animals in Virginia Beach, Virginia.
A digital radiography system for PetAid Colorado in Denver, Colorado.
Nearly 2,000 microchips for pets at the Humane Society of Tampa Bay.
Critical care for the pets of the homeless, served through the Portland Animal Welfare Team in Portland, Oregon.
"For the truly homeless, the truly destitute, this grant from the Banfield Foundation will meet a long standing, un-met need for the beloved pets of pet owners who have no access to care due to severe financial limitations," said Cindy Scheel, executive director of the Portland Animal Welfare Team. "These pets deserve a good life. We are going to give them that happily ever after."
About the Banfield Foundation
Founded in 2015 by Banfield Pet Hospital®, the Banfield Foundation is a 501(c)(3) nonprofit organization committed to improving the well-being of pets and communities. Our mission is to elevate the power of the human-animal bond, strengthen the pet welfare community, provide disaster relief for pets and advance the science of veterinary medicine through fostering innovation and education. We also offer support for emergency and preventive veterinary care and provide grants to pet-related nonprofit organizations in order keep pets healthy and in loving homes. For more information visit www.BanfieldFoundation.org or follow us at Facebook.com/BanfieldFoundation.
Find a Banfield near you
Search by zip code, or by both city & state.
This field is required.
Optimum Wellness Plans®
Affordable packages of smart, high-quality preventive petcare to help keep your pet happy and healthy.
See OWP packages