Vancouver, WA November 08, 2017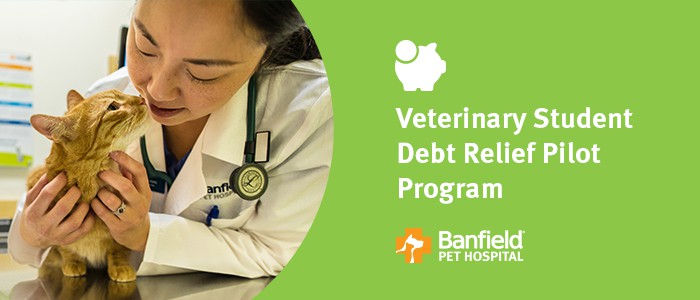 Banfield Pet Hospital® today unveiled the Banfield Veterinary Student Debt Relief Pilot Program. Marking the latest development in the practice's commitment to supporting its associates' financial well-being, Banfield is set to launch a new debt-relief program for its veterinarians in December 2017.
"High levels of veterinary student debt are plaguing the industry, and Banfield is committed to helping veterinarians address this significant burden," said Dr. Daniel Aja, senior vice president & chief medical officer, Banfield Pet Hospital. "As we continue to dedicate ourselves to continuous improvement as a practice, we're investing in the new Banfield Veterinary Student Debt Relief Pilot Program to support our doctors first and foremost – but also set the bar for the veterinary profession to help address this industry-wide issue."The new Banfield Veterinary Student Debt Relief Pilot Program for eligible doctors will include three main elements:
A low-interest refinancing option with supplementary .25% interest-rate reduction from a third party financial institution
A monthly student-loan contribution of $150 paid by Banfield directly on qualifying student loans
A one-time $2,500 payment for each qualifying Banfield student program in which the doctor participates prior to graduating
Research shows veterinarians carry a staggering amount of student debt, averaging more than $167,000. [1] The Banfield Veterinary Debt Relief Pilot Program is intended to begin to help relieve this burden and promote the financial health and well-being of Banfield doctors.
"When I graduated from veterinary school, I had finally achieved a lifelong dream to be part of the profession I loved so much – but it came at a high cost," said Dr. Kirk Breuninger, Banfield Veterinary Student Debt Relief Pilot Program ambassador, Banfield Pet Hospital. "Like most early career veterinarians, my student debt weighed heavily on me and made financial freedom very challenging. The new student debt benefit shows Banfield is listening to and addressing the needs of its associates."
Designed to create an environment in which doctors can focus on what matters most to them – providing high-quality care to pets – the aim of the new offerings is to further improve the practice's holistic health and well-being strategy, which also includes comprehensive benefits and programs that focus on mind and body, financial, career, and community well-being such as flexible schedules; community volunteering programs; stress resilience and energy management programs; continuing education funds; and Banfield-sponsored industry memberships.
Examples of other Banfield financial well-being offerings include 100 percent practice-paid partial income replacement benefits for full-time associates to cover illness, pregnancy and unexpected events in life; and 100 percent practice-paid life insurance coverage to meet financial needs of associates' loved ones.
About Banfield Pet Hospital®
Founded in Portland, Ore., in 1955, Banfield is the largest general-veterinary practice in the world. In 2007, Banfield joined the Mars, Inc. family of businesses, and today has more than 1,000 hospitals across the United States. More than 3,500 Banfield veterinarians are committed to providing high-quality veterinary care for three million pets annually. Banfield's charitable arm, the Banfield Foundation, was established in 2015 as a 501(c)(3) nonprofit organization dedicated to improving the well-being of pets and communities. In 2017, Banfield Pet Hospital – including the work of the Banfield Foundation – was named among Points of Light's Civic 50 as one of the most community-minded companies in the U.S. Press seeking additional information are invited to call the Media Hotline: (888) 355-0595.
###
---

[1] Data on average veterinary educational debt and other economic trends in the veterinary profession are published by the AVMA Veterinary Economics Division and will be available to access in March 2017. https://www.avma.org/About/SAVMA/StudentFinancialResources/Pages/default.aspx#refs
Find a Banfield near you
Search by zip code, or by both city & state.
This field is required.
Optimum Wellness Plans®
Affordable packages of smart, high-quality preventive petcare to help keep your pet happy and healthy.
See OWP packages