Vancouver, WA June 18, 2018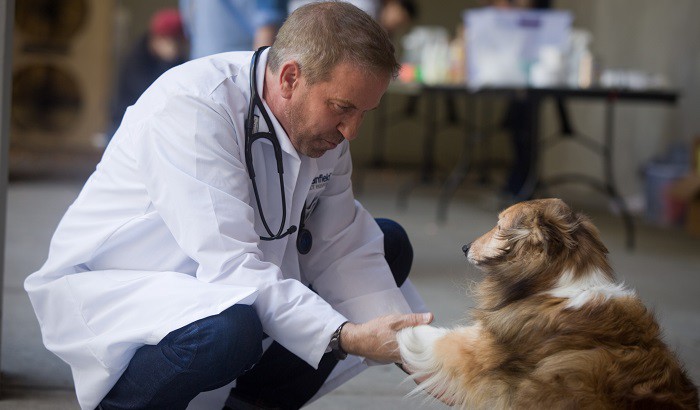 Today, Banfield Pet Hospital® was named an honoree of The Civic 50 by Points of Light, the world's largest organization dedicated to volunteer service. As a recipient for the second year in a row, the award recognizes Banfield, including the work of the Banfield Foundation®, as one of the most community-minded companies in the United States. The Civic 50 provides a national standard for superior corporate citizenship and showcases how companies can use their time, skills and other resources to improve the communities in which they do business.
"The Civic 50 truly highlights the commitment of community and civic engagement of America's leading brands," said Natalye Paquin, president and CEO, Points of Light. "Points of Light believes that people drive change in addressing society's growing and most profound challenges. The business community plays an important role in creating and delivering innovative solutions that drive social good in the communities where they live and work."
The Civic 50 honorees are public and private companies with U.S. operations and revenues of $1 billion or more and are selected based on four dimensions of their U.S. community engagement program including investment, integration, institutionalization and impact.
"To be honored among The Civic 50 for the second year in a row is a testament to the incredible dedication and expertise of our Banfield associates in serving pets, their owners and communities in need," said Brian Garish, President of Banfield Pet Hospital. "Banfield and the Banfield Foundation are committed to making a positive difference in the lives of pets and their owners. In the past year alone, our associates have dedicated more than 20,000 hours to impact the lives of 180,000 pets and people around the country, educated more than 13,000 kids about responsible pet ownership and together with the Banfield Foundation, teamed up to help more than 26,000 pets impacted by natural disasters."
The Civic 50 survey was administered by True Impact, a company that specializes in helping organizations maximize and measure their social and business value. The survey instrument consists of quantitative and multiple-choice questions that inform The Civic 50 scoring process. The Civic 50 is the only survey and ranking system that exclusively measures corporate involvement in communities.
For more information on Banfield and the foundation's charitable efforts, read Banfield's 2017 Corporate Social Responsibility (CSR) Report and the Banfield Foundation's 2017 Impact Report. To learn more about The Civic 50, to see a full list of the winners and to access the highlights, trends, benchmarking data and best practices from the 2018 Civic 50, visit www.Civic50.org.
About Banfield Pet Hospital®
Founded in Portland, Ore. in 1955, Banfield is the largest general-veterinary practice in the world. In 2007, Banfield joined the Mars, Inc. family of businesses, and today has more than 1,000 hospitals across the United States and Puerto Rico. More than 3,500 Banfield veterinarians are committed to providing high-quality veterinary care for over three million pets annually. Press seeking additional information are invited to call the Media Hotline, opens in new tab: (888) 355-0595.
About the Banfield Foundation®
At the core of the Banfield Foundation, a 501(c)(3) nonprofit organization, is the belief that all pets deserve access to veterinary care. In support of this belief, the foundation funds programs that enable veterinary care, elevate the power of the human-animal bond, provide disaster relief for pets, and advance the science of veterinary medicine through fostering innovation and education. It also leverages the expertise and passion of Banfield Pet Hospital associates to care for pets in need. At the Banfield Foundation, we are committed to making a better world for pets because they make a better world for us. For more information, visit Banfield Foundation, and follow @BanfieldFoundation on Instagram and Facebook.
About Points of Light
Points of Light, the world's largest organization dedicated to volunteer service, mobilizes millions of people to take action that is changing the world. Through affiliates in more than 200 cities and partnerships with thousands of nonprofits and corporations, Points of Light engages four million volunteers in 20 million hours of service each year. We bring the power of people where it's needed most. For more information, visit www.pointsoflight.org.
Find a Banfield near you
Search by zip code, or by both city & state.
This field is required.
Optimum Wellness Plans®
Affordable packages of smart, high-quality preventive petcare to help keep your pet happy and healthy.
See OWP packages